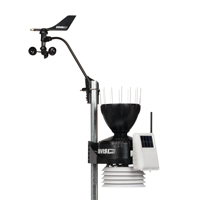 The Davis VantagePro 2 weather system has been running well now for perhaps 5 years.
We got actual rainfall the other day, a real soaker probably 0.5-0.75 inch. We last had rain back in January; even when it rains in the area it typically misses us.
Well, the data was pretty strange. It showed we got 68 inches that night…. Probably not.
I went out and removed the rain shield; it had a small dead bug, but wasn't particularly blocked. The buckets were clean, I don't see anything wrong.
Toggled the bucket back and forth a few times, but didn't see any response. It should register 0.01 inches per tip.
Called Davis support. As we were talking, I started seeing a steady amount of rain being registered. It was a constant 0.12 inches every 30 seconds. It was certainly not raining! Conclusion: something is wrong with the transmitter device.
They mailed a replacement device ($60). I got it installed OK, seems to be reading OK. Sprayed some water into the rain cone, saw it register. It takes a minute or two to register due to the update frequency of the console and of weather display. Sent back the old one.